New York State Bans Evictions During COVID-19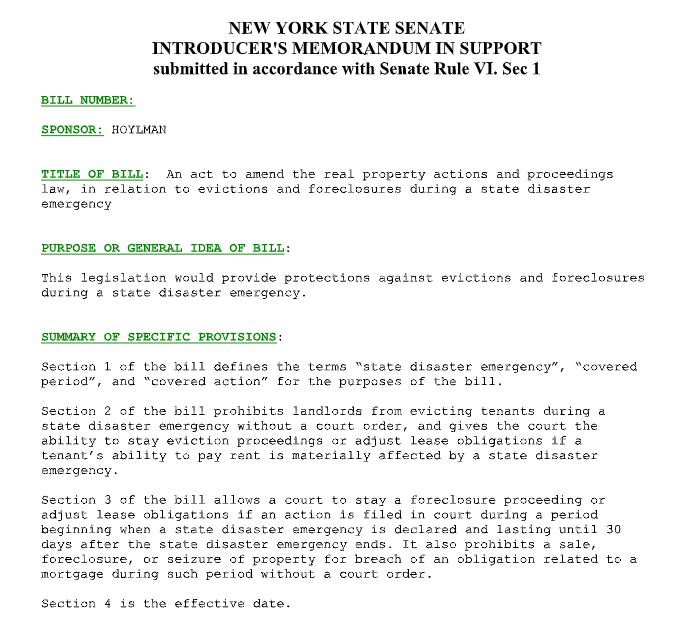 New York State's chief administrative judge has indefinitely suspended eviction proceedings in housing court throughout the state amid the coronavirus outbreak. It took effect March 16, 2020 at 5 p.m. State Senators Brad Hoylman & Brian Kavanagh introduced legislation to enact a statewide moratorium on evictions and foreclosures during the pandemic and future emergency declarations.
However, if tenants need assistance you can call the Met Council's Tenants' Right Hotline on Monday and Wednesday between 1:30-8:00pm, Tuesday between 5:30-8:00pm or Friday between 1:30-5:00pm for assistance in English and Spanish at 212-979-0611.
Governor Andrew M. Cuomo, New Jersey Governor Phil Murphy, and Connecticut Governor Ned Lamont issued a joint Executive Order closing all movie theaters, casinos, gyms, and bars that do not serve food, effective as of 8pm on Monday, March 16th.
Beginning today, Tuesday, March 17th, businesses in New York City with fewer than 5 employees will be able to apply online for employee retention grants. Soon, New York City will also begin to offer low interest loans to businesses with fewer than 100 employees. Businesses can find more information here.
NYCHA residents can find the latest update from the New York City Housing Authority here.
If you have a critical housing issue as it relates to COVID-19, contact your mayor or state senator immediately. Stay safe. Askhollingsworth.com
Data Courtesy of: NY State Senator Alessandra Biaggi